3 Girl JAMmers
Jessica B here with you today
for my

Design Team Day. I

love that I get

to share another project with you

that I made using the fantastic products available at 3 Girl JAM.
There are so many wonderful reasons why I LOVE the
3 Girl JAM Crinkle Ribbon.
It is awesome to work with. Not only does it make a perfect accent on your cards and layouts when you tie it into a bow, use it across the edges, or pleat it to make a border, but I have to say, my favorite thing to create with Crinkle Ribbon is
Elegant Florals!
Recently, I had a prize winner who stated her favorite color is
ORANGE
. So her entire prize was made with that in mind:
including this
Orange-a-liscious Loop de Loop
Made with
Harvest Orange
and
Antique White
Crinkle Ribbon
You may recall seeing a few other projects in the past over at
Jessica's Craft Shaque
that included these gorgeous blossoms!
Here's a quick recap to inspire you and hopefully invigorate your senses!
I will share the name of each Elegant Floral Style (EF) above each of the project pictures
Loop de Loop
Mini Bow
Sweet Swirl
Pleated Petals EF
Wise Whispers
to stock up on some Scrumptious Crinkle Ribbon to try this technique yourself!
Make a Party Related Project, use some Ribbon, and LINK UP
at
***side note....be sure to add the Challenge Blog Badge to your Blog to be considered in the drawings for the candy winners once the challenge ends! We would hate to see you not be eligible for missing this simple step***
Here, Grab it NOW!!!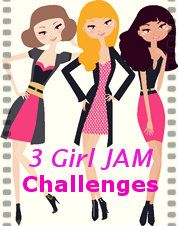 THANKS FOR STOPPING BY TODAY
♪ ♪ JAM ON ♪ ♪
3 Girl JAMmers
╔═══╗ ♪
║███║ ♫
║ (●) ♫
╚═══╝♪♪
╲╲╲╲╲┏━━━┓╱╱╱╱╱♪
╲┏━━━┻━━━┻━━━┓╱
╲┃╭━╮┏━━━┓╭━╮┃╱♫
╱┃┃╳┃┣◯-━-◯┫┃╳┃┃╲♫
╱┃╰━╯┣━━━┫╰━╯┃╲
╱┃┈▊▊▊▊┈▂▃▅▇┈┃╲
╱┗━━━━━━━━━━━┛╲
Remember to
Keep Crafting,
Because
♫ CRAFTING ♫
♫ ROCKS ♫
\m/-_-\m/
:O) Jessica