!!! HAPPY MONDAY !!!
Blends and 3 Girl JAM-mers
Happy Monday to all of our lovely Fans. I am happy to share some Sprint Inspiration here at the
3 Girl JAM
Blog today!
Today, the temps in Northern Ohio are better than they have been recently. The snow is almost completely melted and I am anxiously awaiting the first flowers to pop up from below the earth and show us the bountiful colors of Spring.
In the meantime, my hope for Spring Colors led me to create a Spring Themed Tag.
and you can see highlights of these colors here in my tag.
is was a perfect way for me to show how much I LOVE HER!!!!
I had a lot of fun using some "mixed media" techniques on this project and you can read all about it at
my personal blog
if you would like. I will be working on getting a nice step by step post up today.
I used
Goblin Green
to tie a nice "tail" at the top of my tag.
JOIN THE FUN CHALLENGE
The
3 Girl JAM Challenge
for the month of February is
"Yellow, Green and Orange"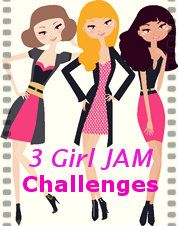 You'll always find LOADS of inspiration at the
3 Girl JAM Challenge Blog
!
Stop over for wonderful ideas from the Design Team and all those who are linking up!
We'd love for you to Link your Projects to JOIN THE FUN and for a chance to WIN a Gift Certificate to Shop at 3 Girl JAM!!!!
$$$ SAVE $$$
~*~*~ AWESOME DISCOUNT ALERT ~*~*~
Stop by 3 Girl JAM to shop around and place an order
for any of the amazing products that are
a MUST HAVE in your stash!
SAVE 10% OFF Your Order ---Just use the Discount Code JB10 during checkout!!!
Thanks for Stopping In Today

Remember
to Keep
Crafting,
Because
♫ CRAFTING ♫
♫ ROCKS ♫
\m/-_-\m/
:O) Jessica