Jessica B, here today
for my Design Team Day and
I am sharing a fun little tutorial on
how to turn a simple coffee filter
and brown paper lunch bag
into a Marvelous Gift Bag
with the help of some
3 Girl JAM Crinkle Ribbon
and
other products.
If you are up to creating something amazing
and plan to use Ribbon,
you should LINK UP to the
Current 3 Girl JAM Challenge
taking place NOW . . .
ANYTHING GOES WITH RIBBON
Now, onto the project sharing ;) . . .
I made this Get Well Bag a while ago
when my Sweet Friend Forever (SFF), Heather Lynn
was not doing so well and
was making many trips to the Hospital.
She was very ill and I just wanted to do something
to brighten her days!
First I stamped the Brown Bag using
this beautiful Wishing Well and Sentiment Stamp Duo by SweetStamps
and some Spiced Marmalade Distress Ink.
Next I took my coffee filter and gave it a good "wrinkle up".
As it was balled up (with zero uniform....lol), I lightly dabbed
parts of it in an array of Fall Colored Distress Inks. I
turned the filter inside out and wrinkled it up a few more times,
following the same steps with each color of ink.
After the inking was done, I folded it into a cone shape
and trimmed the ends (roughly, and again without uniform)
using my zig zag shears.
After placing the gift inside the bag, I folded the paper bag
down a few times, then placed the coffee filter
over the top and used Glue Dots to hold it in place.
To accent the bright colors on my filter, I chose to use
Hot Chocolate Crinkle Ribbon
from the
Hot & Cold Bundle
and tied it in a knot with two tails of ribbon dangling.
The small flower adorning the ribbon
is from the Pinque Peacock Shop.
This is a quick and easy way to create
a unique and personal gift bag for any occasion.
Now, before you leave, I want to share another quick project
I created over the weekend.
I used one of the darling Muslin Bags
by Stateline Bag Co., which you can purchase
at the
3 Girl JAM Shop
as well!!!
So, if you need any ideas
on how to create something fun and unique,
using these fun bags,
peek around the Blog while you are HERE,
or
visit the
3 Girl JAM Challenge Blog
for ideas,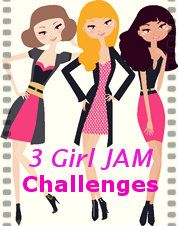 or
you can check out
the
3 Girl JAM Pinterest Boards
!
Here is my other project:
You can find more details of how
it was created by visiting my personal Blog:
Jessica's Craft Shaque
Thanks for Stopping In Today
Stop by
3 Girl JAM
to shop around
and place an order
for this Beautiful Ribbon!
or some State Line Bags!
or some adorable FLAIR Buttons!
or any of the other amazing products that are
a MUST HAVE in your stash!
Remember
to Keep
Crafting,
Because
♫ CRAFTING ♫
♫ ROCKS ♫
\m/-_-\m/
:O) Jessica